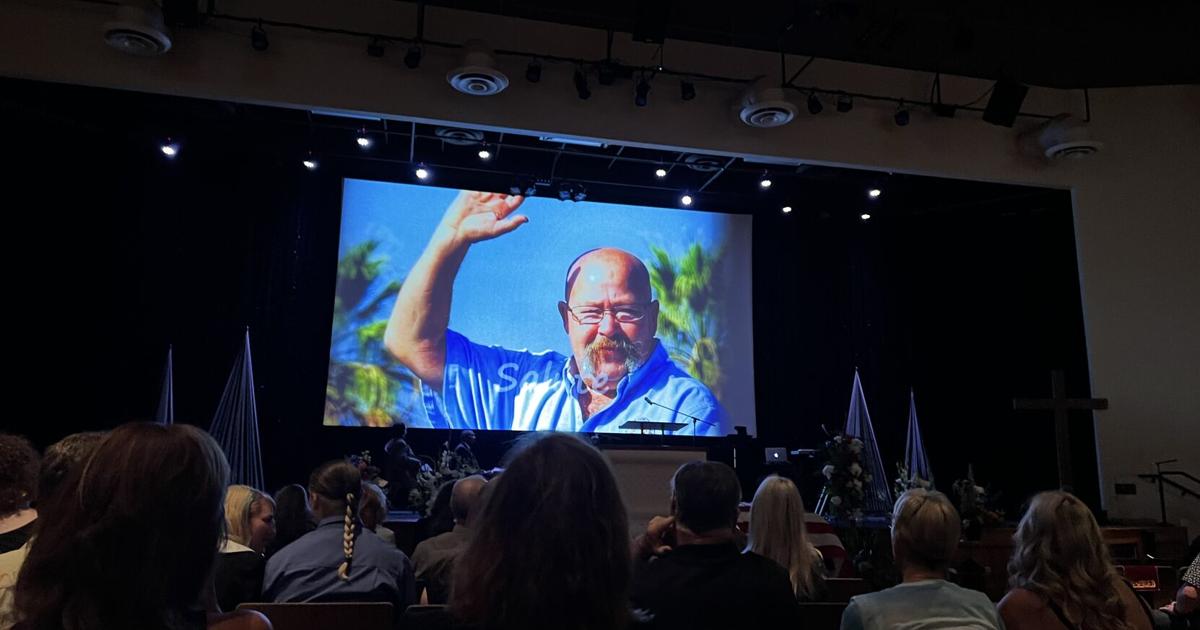 Tribute to Mr. Porterville: Remember Cam Hamilton | Pictures
It was a funeral fit for a mayor, as many family members, friends, current and former members of the Porterville City Council, police and other city officials, as well as members of the community gathered Friday at the Church of the Nazarene in Porterville and the Home of Peace Cemetery to honor, remember, and mourn Cameron James Hamilton – a man affectionately known as "Mr. Porterville" by best friend Samantha Rafanan.
Hamilton died on July 23. Hamilton is also known to be the longest-serving council member, having served 16 years, including as mayor of Porterville, on the Porterville City Council.
Friday's service represented a journey of Hamilton's life as a few speakers shared stories and remembered the years they shared with him.
Senior Pastor Mark Pitcher welcomed the crowd and said he was honored and privileged to have pastored Hamilton for 21 years. He talked about embracing and enjoying the day and said Hamilton really does do that every day.
Hamilton's son-in-law Paul Alonzo was the first of several speakers to take the microphone. He spoke of the glory Hamilton brought to the family. He also said 'Godspeed', which Hamilton was known to say often, means 'Success in your new journey'.
"He was a beacon," Alonzo said. "He was always approachable, always available, always there for all of us, for my whole Godspeed family."
Hamilton's niece Allyson Prather said Hamilton could be obnoxious, feisty and opinionated, then shared a story of how he prepared the young family members for life and how he presented himself to all and for everything.
"He loved Porterville. It was his house," Prather said.
It was a sentiment expressed time and time again as speakers spoke of friendship, love, brotherhood, fond memories and adventures with Hamilton.
"Cameron was a real hero. A real Navy hero. A hero to the town of Porterville and a hero to his family members," said Pat Nagy, who was Hamilton's childhood neighbor whom he met when he was 5 years old.
Nagy, who remained Hamilton's best friend for 60 years, kept the crowd laughing as he talked about Hamilton's sane opinions, being interviewed by national news and showing up at the big First California Cities conference, where everyone everyone was in costume. , in Hawaiian shirt, shorts and flip flops.
Nagy also spoke about Hamilton being his best man at his wedding and having the same honor when Hamilton married Christine. He described Hamilton as the happiest he had ever seen that day.
His friend John Milinich said he met Hamilton in first grade – when Hamilton gave him a black eye. They've been best friends ever since, he said. Milinich then spoke of a porch conversation with Hamilton, reflecting on Jesus Christ.
"Can you imagine what Cameron sees now," Milinich said, adding that his friend was prepared for the moment of his death, and thanked Pastor Mark for preparing him for that day. "Cameron woke up Saturday morning and had no idea what was going on that day."
Former Porterville Chamber of Commerce Director Donnette Carter, Porterville City Manager John Lollis and Porterville Councilman Milt Stowe also spoke at the funeral.
In a broken voice, Carter said Hamilton once told him he was ready to go, whenever God took him. She went on to talk about his passion for his country, his community and his family, and said he was a proud veteran who spoke often about his service. She also mentioned the "quilts of Honor" at the Tulare County Fair, where Hamilton was nominated to receive one. It was a happy day, she added, when she was placed on his shoulders.
"He loved America," Carter said. "He loved Porterville. He was 'Mr. Porterville' – a true statement.
She ended by saying that Hamilton was a cheerleader for Porterville's chamber and a cheerleader for her, but most of all passionate about her family.
"I remember the day he told me he thought he had found his second soul mate,' Carter said and spoke of the happiness on Hamilton's face as soul mate Christine walked up the aisle during their beach wedding. "He was an incredible man. Incredible Mr. Porterville with a love for family, country and community – and most importantly, his faith.
Lollis opened up about his larger-than-life character, naming him "Yosemite Cam," and talked about his love for the Porterville Police and Fire Department. He also said he was Porterville's longest-serving council member, having served 16 years from March 2002 to December 2018.
Hamilton was a proud Navy veteran who supported local police and firefighters, Lollis said, and was instrumental in carrying the military banners and naming Fallen Heroes Park.
Lollis also talked about how Hamilton turned down a big reality show "Think House of Cards meet Ducks Dynasty," he said as everyone laughed. He declined, Lollis said, because of his love for Porterville.
Lollis also spoke about Christine, calling her a true blessing to his life over the past five years.
Stowe said Hamilton was bold and honest.
"I can imagine Cameron negotiating with Jesus to see if he can bring his cigar (to heaven)," Stowe said as everyone laughed.
Stowe told the story of Cameron taking his wife to the hospital at 2 a.m. When told he didn't have to, Hamilton replied, "I'm always here for you bro."
Stowe spoke of the love, protection, kindness and great passion Hamilton had for his family. He quoted Matthew 5:4 – Blessed are those who mourn – and spoke of Hamilton's love for the Lord and the church.
"Cameron knew this day was coming. He was prepared. He wasn't scared," Stowe said. "As we mourn him, others in heaven rejoice. He is in the best possible hands."
He said Hamilton had no pain or tears now and said some people bring such a bright light to the world when they leave that the light stays.
"Cameron, you were one of those," Stowe said.
In addition to the speakers, worship arts pastor Colene Wiens, accompanied by a violinist, sang a few worship songs, "Oceans" and "As the Deer," which Hamilton loved.
A "brief memorial of videos and photographic memorabilia celebrating the life of Cameron James Hamilton" compiled by Will Lloyd, made crying, laughing, reminiscing and seeming to love every clip and photo depicting Hamilton's life.
"What a life," Pitcher proclaimed and he shared the story of hearing about Hamilton's death. He ended the service by sharing stories about Hamilton's love for the church and Jesus Christ, and spoke about the perfection of God's plan.
"That Saturday when (Hamilton) breathed his last, he heard 'Well done my good and faithful servant'," Pitcher said. "Let's celebrate together. For Cameron.
And as "The Blessing" played, Christine Hamilton could be seen crying, her arms outstretched in the sky, praising God.
A procession and funeral service, with full military honors, followed at Home of Peace Cemetery.