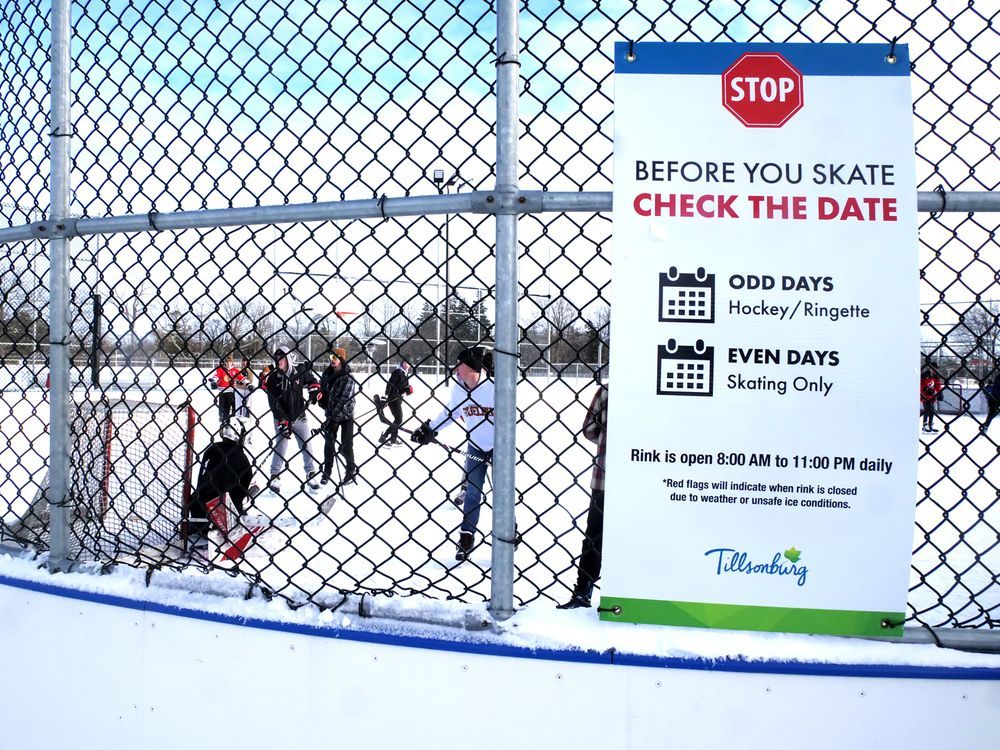 Security guards and cameras should deter vandalism at the outdoor rink
Content of the article
Five options proposed by City of Tillsonburg staff are being implemented at the JL Scott McLean Outdoor Recreational Space after significant vandalism this winter.
Advertising
This ad has not loaded yet, but your article continues below.
Content of the article
At its January 27 meeting, the Board asked staff to implement five options from a report containing 12 suggested options.
First, city staff will engage with the public, partners and stakeholders to seek feedback and support. Stakeholders include the Ontario Provincial Police, Donor Committee (JL Scott McLean Legacy Fund) and various Board Committees.
The idea is to find broader community support for safe and respectful use of rinks through social media and traditional media.
Second, the City plans to set up a volunteer program for "ambassadors" who set a good example on the ice, inform and educate ice users.
Third, the City will engage the services of security guards at selected times to monitor the rink to ensure its safety.
Fourth, video surveillance will be established as both a deterrent and a follow-up in the event of further vandalism.
And fifth, better sharing of information about the rink (for example, the use of odd and even days or what the "red flag" means) through frequent use of City social media.
The potential cost is estimated at $1,500 per week for security, $4,000 for cameras and $2,000 for additional signage.
"What kind of protective housing are you going to put on them (cameras)?" Councilor Chris Parker asked, noting that there had been a lot of discussion about the outdoor rink at the sports and recreation committee. "I'm sure they will be a target."
The solution, said David Drobitch, director of parks and facilities, is to mount them on the side of the community center building at some elevation.
Advertising
This ad has not loaded yet, but your article continues below.
Content of the article
"I don't think they would be in a very good range (for puck shooters). We had no issues with other cameras around the building and these are much more accessible if someone wants to damage them.
The plexiglass repair is estimated at $7,000. The gas heaters, vandalized at the start of the 2021-22 season, cost $3,000 each.
"Is it worth keeping them (the gas heaters) there if they're going to be vandalized?" Councilor Deb Gilvesy asked.
Money for repairs and implementation options will come from the Recreation, Culture and Parks annual operating budget.
"I think the options highlighted strike a balance between immediacy, common sense and public engagement," Mayor Stephen Molnar said. "I think the fact that we're talking about it is important."
The seven options not implemented by the Board included doing nothing, reducing amenities (e.g. removing heaters, safety net and boards), closing the rink, eliminating hockey as a use, staffing the rink , stream live video and override odd/even days. day system.
Councilor Penny Esseltine asked why video surveillance was chosen over live broadcast equipment, which is used at Tillsonburg Regional Airport.
"I thought people might be interested in that," Esseltine said. "It could spark community interest in the rink. Would there be a big difference in cost between these two items? »
The difference between the two systems, Drobitch said, is primarily that the webcams don't store data. Security cameras collect more details and information (eg license plates) which can be kept for a period of time if needed as evidence in court.
Advertising
This ad has not loaded yet, but your article continues below.
Content of the article
"A webcam can certainly be investigated," Drobitch said, noting that live streaming can sometimes benefit tourism and go hand in hand with security cameras.
Molnar said he was reluctant to support live streaming.
"It's a very busy area with young people and I don't think live streaming in any capacity of young people in our community is likely appropriate," Molnar said, "with the use of municipal technology ".
In his report to Council, Drobitch identified both "heavy use" damage and instances of deliberate vandalism. Severe use included damage from hitting – hitting is not allowed – resulting in $1,800 repairs. The harsh cold makes boards and fences more fragile, he noted.
The vandalism caused between $10,000 and $20,000 in estimated damage. Examples included two gas heaters, continued damage to shelters and plexiglass panels, stolen traffic signs and red flags, and graffiti.