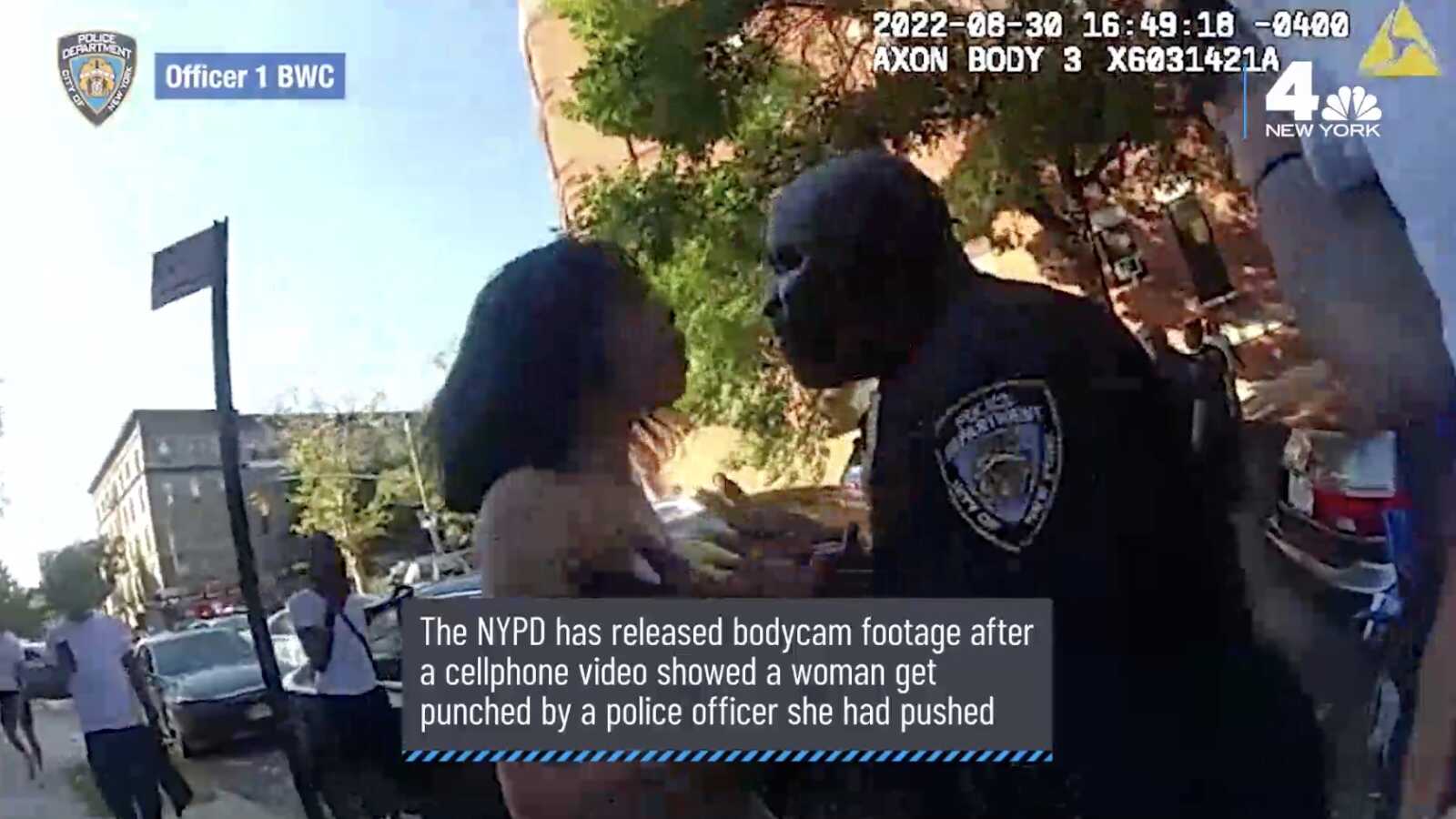 NYPD Body Cam footage shows woman intervening in arrest and being punched by officer – Crime Online
Body camera footage shows different angles of an encounter between a New York City police officer and a woman who came to an arrest in Harlem on Wednesday.
The incident was seen on cellphone footage right after the incident. New York police said Wednesday they are opening an investigation into the incident, as CrimeOnline previously reported.
Cellphone footage and body camera videos show the woman, Tamani Crum, 19, approaching several officers involved in the arrest of an attempted murder suspect and shoving a detective, who took her then hit the pavement.
The NYPD included a statement with the body camera video release explaining that officers were "attempting to take an individual into custody when a fight ensued and a crowd formed around the officers," reported WNBC.
"The individual was carrying an illegal, loaded, polymer 80 semi-automatic handgun, known as a 'ghost gun', in his belt," the statement read. "NYPD officers have removed another illegal firearm – and the person brazen enough to carry it in public – from the streets of our city."
The statement did not explain why the illegal weapon had not already been removed from the suspect's belt by the time Crum appeared on the scene.
Crum and another woman were arrested for resisting arrest and assaulting a police officer, while a third woman received a subpoena for allegedly spitting at a police officer. The Manhattan District Attorney's Office, however, simply charged the three women with obstruction, a misdemeanor.
The NYPD Detectives Union has been yelling about misdemeanor charges, even though a felony assault charge requires proof that a defendant caused physical harm. The union said it was considering legal action against Crum.
DEA statement on detective assaulted during arrest of gunman in Harlem pic.twitter.com/01s8XIsNlw

– Detective Staffing Association (@NYCPDDEA) August 31, 2022
Al Sharpton, mentioned in the DEA statement about his anger, had no comment on the incident. The New York chapter of an organization he founded, the National Action Network, released a statement condemning the officer's action, saying he "brazenly knocked an unarmed woman to the ground".
Meanwhile, NYPD Commissioner Keechant Sewell confirmed that the department's Office of Internal Affairs Force Group was looking into the incident and said it had "expedited release" of body camera footage in the interest of transparency.
Additionally, the Civilian Complaints Commission on Wednesday confirmed a report that the detective involved, Kendo Kinsey, had received six complaints against him over the past decade. But, the council said, none of the allegations have been substantiated.
For the latest true crime and justice news, subscribe to the "Crime Stories with Nancy Grace" podcast.
[Featured image: NYPD video via WNBC]