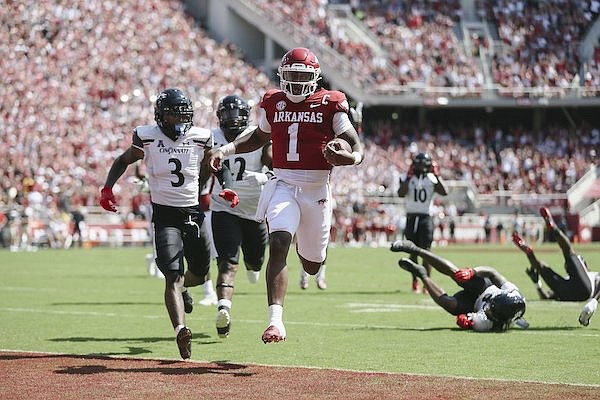 Jefferson leads Razorbacks to season-opening win over No. 23 Cincinnati
FAYETTEVILLE — Before Saturday, the Arkansas football team had beaten a ranked opponent only once in a first season.
Now he has doubled that total.
The 19th-ranked Razorbacks defeated No. 23 Cincinnati 31-24 in front of a reported crowd of 74,751 at Reynolds Razorback Stadium in one of college football's showpiece games of Week 1.
Arkansas quarterback KJ Jefferson scored four touchdowns and the Razorbacks defense put up two scoring passes with turnovers.
Jefferson's 15-yard touchdown in the first quarter came three plays after a 51-yard interception return by Dwight McGlothern at the Cincinnati 29. Jefferson got a pancake block from receiver Matt Landers near the goal line and ran to the end zone untouched to give Arkansas a 7-0 lead.
In the fourth quarter, Jordan Domineck sacked Cincinnati quarterback Ben Bryant and recovered the fumble at 49 for the Bearcats. That set up a 32-yard touchdown pass from Jefferson to tight end Trey Knox two plays later that put the Razorbacks ahead 31-17 with 9:26 remaining.
Jefferson completed 18 of 26 passes for 223 yards and 3 touchdowns, and rushed 18 times for 62 yards and 1 touchdown. He converted two third downs with his legs in Arkansas' last practice that lasted nearly six minutes and froze the game.
Cincinnati shot 31-24 on a 15-yard touchdown pass from Bryant to Leonard Taylor with 5:49 left. The Bearcats bottled running back Raheim "Rocket" Sanders on the first two plays of Arkansas' next drive, but Jefferson rushed for 14 yards on third-and-9 to extend possession. Three plays later, Jefferson rushed for six yards on third-and-second.
The Razorbacks beat the Bearcats 447-436, including 224-111 on the ground.
Sanders carried 20 times for 117 yards to lead Arkansas' rushing game. Knox was the leading receiver with 7 catches for 75 yards and 2 touchdowns.
Bryant completed 26 of 43 passes for 325 yards and 2 touchdowns in his first start for the Bearcats, but also had several knockdowns when receivers were behind the Arkansas secondary.
Cincinnati kicker Ryan Coe missed two field goals in the first half after Arkansas took the lead. The second miss, 48 ​​yards, gave the Razorbacks possession with 1:14 left in the second quarter, and Jefferson engineered a 7-play, 70-yard drive that culminated in a 5-yard touchdown pass to Knox that put Arkansas ahead 14-0 at halftime.
The Bearcats scored on their first drive of the third quarter, capped off with a 5-yard touchdown by Corey Kiner to cut the deficit to 14-7.
The Razorbacks responded with their own 75-yard touchdown that ended with a 19-yard pass from Jefferson to Jadon Haselwood.
Cincinnati shot 21-14 on a 35-yard touchdown pass from Bryant to Nick Mardner with 6:50 left in the third quarter. The Bearcats twice targeted Arkansas cornerback LaDarrius Bishop on the drive and completed both passes for 65 yards against him.
It looked like Cincinnati might tie the game when Jefferson fumbled near his goal line on the next practice, but four pre-snap penalties backed the Bearcats up and they settled for a 26-yard field goal by Coe.
Cam Little threw a 32-yard field goal for the Razorbacks with 1:28 left in the third quarter to extend the lead to 24-17.
Arkansas beat a ranked opponent in the season opener for the first time since 1974, when the Razorbacks beat No. 5 Southern Cal 22-7 at Little Rock. Arkansas was playing a game between ranked opponents in Fayetteville for the first time in program history.
The Razorbacks are scheduled to host South Carolina next Saturday at 11 a.m.