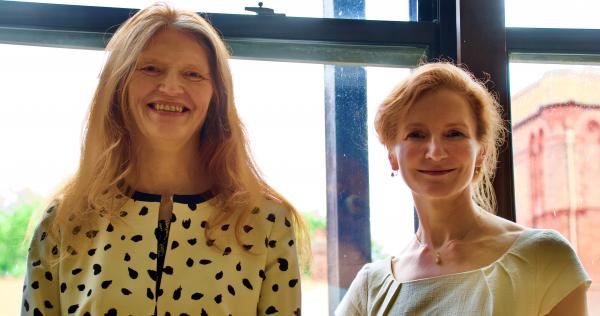 Girton's Mistresses | Girton College
Current mistress Professor Susan J. Smith and her successor Dr. Elisabeth Kendall. (Jeremy West)
Unique within Oxbridge, the Head of House office at Girton College is titled 'The Mistress'. As Girton prepares to welcome its twentieth mistress in 153 years, historian Dr Hazel Mills and archivist Hannah Westall present an online exhibition answering many of the questions we've received about the Office's origins and development of the role.
See the exhibition online: https://www.girton.cam.ac.uk/events/mistress-1869-1924
The exhibition covers the early years of the College, when mistresses were "appointed" (usually on the recommendation of Girton's main founder, Emily Davies), as well as the first quarter of the 20e century when mistresses began to be elected following a series of candidacies. In the mid-1920s Girton was due to receive its Royal Charter and the Mistress's office began to resemble its present form.
Girton 20e Mistress, Dr. Elisabeth Kendall said:
"One of the coolest things about my predecessors is that none of them were afraid to do anything for the first time!"
The outgoing teacher, Professor Susan J. Smith, says:
"It's great to be a Cambridge House Manager, but Girton's story is particularly inspiring and it's a privilege to be a part of it."
Dr Kendall was previously Senior Research Fellow in Arabic and Islamic Studies at Pembroke College, Oxford. Over the past 10 years, she has undertaken extensive fieldwork in Yemen, researching terrorism and poetry, and building deep relationships with eastern tribes, with whom she has negotiated an inter-tribal council for support communities against al-Qaeda. She also co-founded and now chairs a development NGO in the country, focused on building resilience to conflict as well as educational initiatives, such as peacebuilding in schools, teacher training and literacy. women. Dr. Kendall passionately believes that research and education make a difference beyond the confines of academia.
Professor Smith is retiring at the end of September after 13 years in office. She is a geographer who works on housing and economic inequalities. You will find her next year on sabbatical…