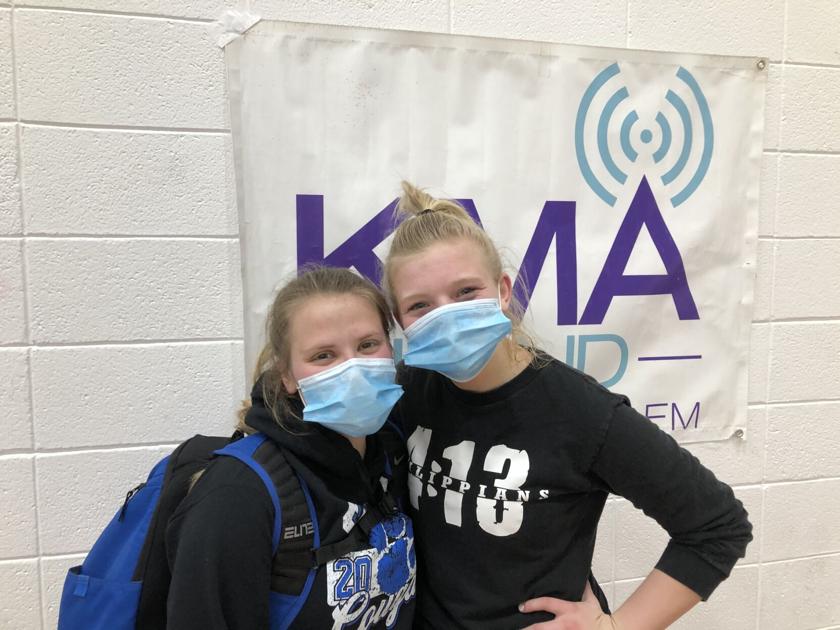 CAM Girls Make Statement in Upset 2A # 6 AHSTW Victory | Sports
(Avoca) – Women's basketball CAM made a statement on Tuesday night, scoring a 57-54 victory over Class 2A No.6 AHSTW in their season opener.
CLICK HERE TO BUY GAME CDs
"I really thought we were going to compete with them," coach Joe Wollum told KMA Sports. "With the depth that we have and what we're trying to do, we've got a bunch of girls who just want to win."
The Cougars (1-0) were 10 behind at the start, but they took advantage of foul issues from three AHSTW starters to set up a 14-0 streak to close the first half.
As AHSTW (1-1) tried to get back into the game, CAM continued to find big hits from a group that included a trio of freshmen making their first college appearances.
"The word I used with freshmen is fearless," Wollum said. "They are not afraid of any situation or whatever they do.
Eva Steffensen led the freshman group with seven points, four rebounds and three assists while Kiera Nichols and Meredith Rich each scored three points and combined on nine rebounds and five assists.
The veterans also found their way to victory. Junior Marissa Spieker had 11 points, four steals and three assists, sophomore Reese Snyder had 11 points and junior Mallory Behnken had 10 points. Senior Zoey Baylor added eight points and three steals.
"We were aggressive and ready," Baylor said. "It's a great team, but we had to stoop and play aggressively. "
AHSTW sprinted to take the early lead on a flurry of quick breaks thanks to their teeming defense. However, seniors Claire Denning, Claire Harris and Julia Kock all had issues that sent them to the bench. Immediately, the Cougars won the next 14 points.
"We showed a lot of heart," Wollum said. "Our daughters got down and played defense and hit a few punches when we needed them."
Harris led all scorers with 19 points while Denning scored 16 points, six rebounds, five steals and three assists and Kailey Jones added 16 points, 11 rebounds and five steals. However, AHSTW only found three points outside of its big three.
"I think it shows a lot of teams that we are here to win," said Spieker. "We are not finished. Some teams think we might not be very good, but we're not going to back down.
Check out full video interviews with Coach Wollum, Baylor and Spieker below.