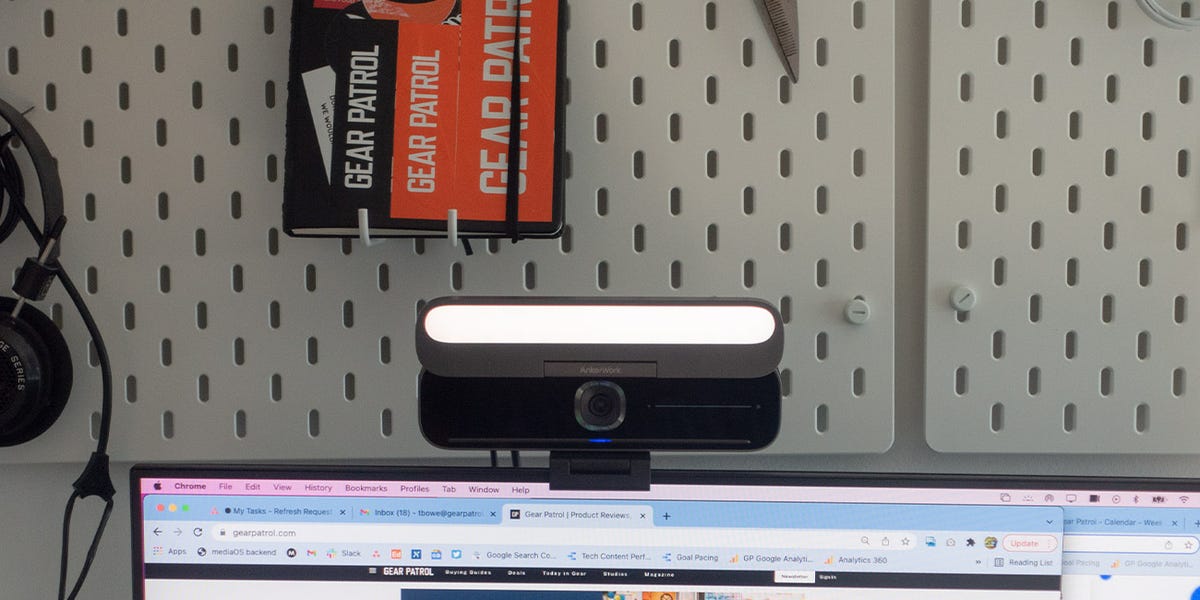 Anker's AnkerWork B600 Video Bar Webcam is a WFH Game Changer
Not too long ago we were in a webcam crisis. When the coronavirus pandemic hit in March 2020, the vast majority of people – now forced to work from home – realized that their computer didn't have a webcam, or that the webcam it did, sucked. But they couldn't buy one…because all the most popular webcams were sold out. During months. And months. And months.
Fast forward to the present day, and it's a brave new webcam world. Most laptop and computer manufacturers are committed to improving the quality of their webcams; for example, all newer MacBooks and iMacs have been upgraded to 1080p webcams, after years of 720p or worse. And there are more high-quality webcams — even some that can capture 4K — than ever before.
And, yes, you can actually buy them.
Yet this shift to a new work environment has also spawned a kind of new breed of webcams – ones that attempt to be an all-in-one solution for video calling. Anker's new external webcam, the AnkerWork B600 Video Bar, might be the best example. It packs a 1440p (aka 2K) webcam, built-in speakers and microphones and the best thing is that it also has a built-in light to wow you. Of course, this all-in-one package comes at a pretty big change: $220.
I've been using the AnkerWork B600 video bar for several weeks – replacing the webcam, the Logitech C920S HD Pro ($70), which I bought last year when webcams started to become available again – and I have to say it works well. Image quality is much better than my 2016 MacBook's webcam. The speakers are decent enough, though the built-in mics leave a bit to be desired, admittedly (it doesn't do the best job of filtering out background noise ). And the incandescent light… well, it works.
Now the AnkerWork B600 Video Bar is far from the first webcam to try to solve several workstation problems, but very few try to solve everything of them. The Logitech 4K Pro Webcam ($160) and Dell UltraSharp Webcam ($200), for example, are two high-end options with a fantastic high-res camera and built-in mics, but both lack speakers and audio. a glowing light.
The biggest caveat about the AnkerWork B600 video bar is, obviously, the price. At over $200, it's an expensive webcam (even compared to higher resolution webcams) because all of those built-in components add up. And that actually raises a pretty interesting question for consumers: do you really need an all-in-one webcam?
For someone like me, who has had their work-from-home setup in place for almost two years – I have a Micro Blue Snowball ($40)Logitech webcam (mentioned above) and bookshelf speaker system powered by an Audioengine N22 amp ($199) – the answer is: probably not.
I actually found it a little annoying to have an all-in-one webcam on top of my other office gear. I use different video conferencing platforms – Google Meet, Microsoft Teams, Zoom and many others – and too often I found that my external speakers or mic (which are better than the ones built into the webcam) were being hogged by the AnkerWork B600 Video Bar. I wanted to use it as a webcam, and that's it. It wasn't hard to switch back to my defeat speakers and mic – but, again, I found it a bit tedious.
Obviously, an all-in-one webcam like the AnkerWork B600 Video Bar is a good, simple (and yes, expensive) solution for people who want to improve most aspects of their workstation all at once. It turns out that since a lot of people have been working from home for a while now and probably already have external gadgets that improve their video conferencing game, this might not be for you.
This content is created and maintained by a third party, and uploaded to this page to help users provide their email addresses. You may be able to find more information about this and similar content on piano.io